Pitru Paksha often referred to as Shradh, entails much more than just refraining from eating meat, buying new things, celebrating, and all the other unfavourable aspects! So come along as we give you a little tour to learn more about shradh and the importance of using it to thank your ancestors for their unwavering love for you.
According to the Hindu calendar, Pitru Paksha (Shradh) is a 16-day time where you pay respect to your ancestors who have left this earthly world. Offering prayers and food to the poor and temple priests during this time is a traditional ritual. All ceremonies and prayers aim to honour and recollect ancestors who have departed for the heavenly home and wish them well wherever they may be.
After the Anant Chaturdashi, the 16-day Pitru Paksha era begins. The pitru paksha start date will be observed on September 10th & pitru paksha last date will be on September 25th this year. The Hindus value this time much since it is when they pay reverence to their ancestors during Pitru Paksha and Shradh Tithi. 
All About the Festival of Pitru Paksha 
During this 16-day holiday, which begins on September 10th, Hindus devote themselves entirely to several ceremonies. According to Hindu texts, this occasion is observed to pay respect to the departed spirits of our loved ones. This is done to hope they have found happiness outside this world's realm. These days are a time of mourning, during which a variety of pujas, daans, and rituals are carried out in honour of our ancestors with the hope that they will be freed from the cycle of life and death and enter the eternal home of heaven. Pitru Paksha Puja Vidhi is held to remember people who have passed away. The ceremonies conducted on this day thus need to be done with the utmost care and sincerity. As a result, we have provided the pitru paksha puja vidhi given below:
According to the lunar calendar, rites occur during Shraad on the tithi when the ancestor passes away. It is required of those doing the pitru pooja to rise early and bathe. Those who perform shradh puja must wear rings made of darbha grass. As you sit in the place of worship, check to see that everything is quiet and serene. Follow this by calling upon your ancestors. The sacred thread is worn by that person performing the pitru paksha puja. This person has to move around repeatedly while the puja is being fulfilled. Perform a pind daan, slowly releasing water while holding it in both hands. On this day, particular cuisine is made according to a sattvic recipe. Then, the ants, dogs, birds, and cows receive this meal.
Additionally, food is provided to the ancestors by being placed on the havan kunda's fire. Along with dakshina, this meal is also offered to Brahmins. Therefore, join your hands, pray for the ancestors' freedom, and ask for their blessings. It is stated that charitable deeds are richly repaid at this time.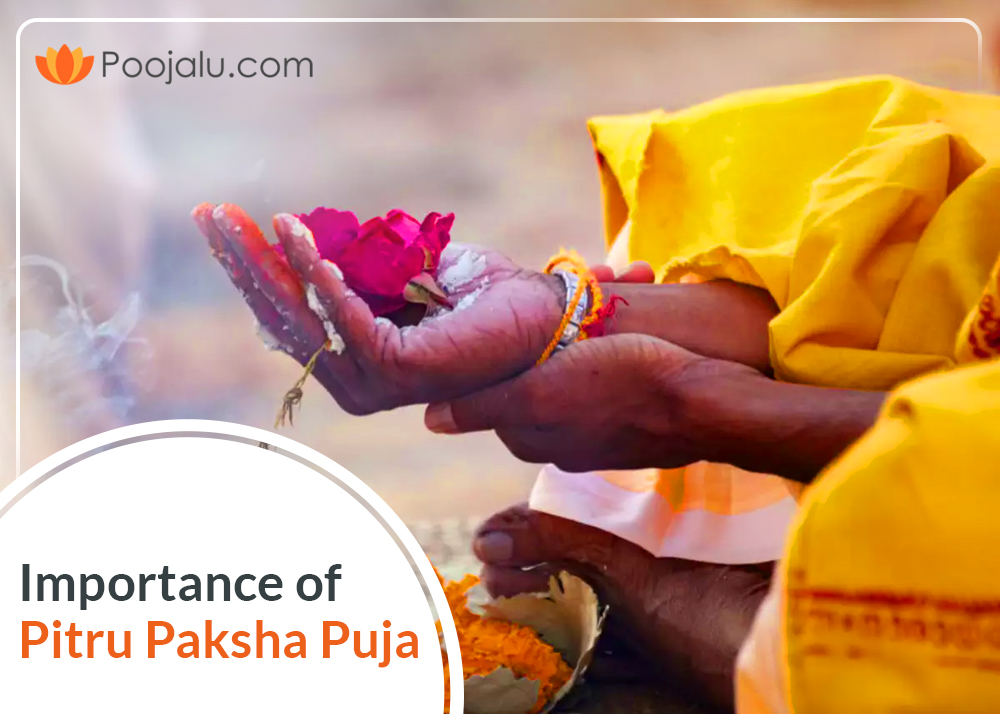 Significance of Pitru Paksha Festival 
India accords great importance to its rich cultural and historical legacy. Therefore, in the Hindu religion, we set aside a certain amount of time each year to praise our ancestors. According to the Hindu Panchang, this period, also known as Shraad, is part of the Chaturmas era. According to the Vedic scriptures, this is when the spirits of the dead walk the earth in pursuit of emancipation. Hindus thus carry out the rites connected with this holiday to ensure that these spirits find peace and bless those still living.
Moreover, it pays back our respects, love, and care to their departed forefathers. This mourning period begins on the day of the full moon, or Purnima Tithi, in the Ashwini month during the Krishna Paksha, or the waning phase of the moon. According to the lunar calendar, specific Pitru Paksha Dates and Time Rituals of Shraad are carried out. Based on the tithi that the ancestor passed away, the pitru paksha shradh date is chosen. There are a few exceptions to this rule, though. There are designated days for doing the pitra moksha for our beloved deities that occur under unusual circumstances.
The fourth and fifth lunar days, known as Chautha Bharani and Bharani Panchami, are designated for fatalities from the previous year. The ninth lunar day, known as Avidhava Navami, is dedicated to honouring women who passed away before marriage. On the twelve lunar days, prayers are conducted for children and ascetics. Those who perished unexpectedly are remembered on the fourteenth lunar day, known as Ghata Chaturdashi. Finally, the Shraad is done on the Sarvapitri Amavasya if the tithi of someone's death is unknown.
Practices Related to Pitru Paksha
Families gather throughout this event to execute certain rituals to remember their ancestors. This aids the departed souls in finding peace in the hereafter. Let's examine these routines.
The person who conducts the ceremonies is called Karta in the Vedic scriptures. The individual performing these rites must be the family's eldest son; if not, a male relative from the paternal side of the family fills in. If no male family member is present, the eldest daughter may execute the ceremonies on the matamata. In exchange for their blessings, Brahmins are given food and beverages. During these Pitru Paksha dates and times, people show hospitality by welcoming the brahmins into their houses for bhoj. 
Pind daan is another essential ceremony for carrying out the deceased's last rites. Hinduism believes that an individual's soul may continue to be imprisoned in the physical world even after passing away because of emotional ties. Thus, this ritual is carried out to free the soul and aid in its redemption. To offer Pind to their ancestors, devotees from across the nation travel to Gaya and the banks of the Falgu River. The Karta takes the names of all three generations of ancestors on Sarvapitri Amavasya. This practice is considered crucial to strengthen the ties between families throughout history.
Pind Daan Places in India
Gaya, Bihar 

Varanasi, Uttar Pradesh

Prayagraj, Uttar Pradesh

Ayodhya, Uttar Pradesh

Haridwar, Uttarakhand

Brahma Kapal, Badrinath

Ujjain, Madhya Pradesh

Mathura, Uttar Pradesh

​Jagannath Puri, Odisha 

Dwarka, Gujrat

Pushkar, Rajasthan

Kurukshetra, Haryana

Avantika, Shakti Peeth Tirth

Siddhpur
Importance of Shraddh
Pitru dosha is highly important in astrology since it may rob a native of everything fortunate if it appears in their birth/natal chart. It is a karmic debt owed by earlier generations that is now the present generation's responsibility. This dosha manifests in a person's horoscope when their ancestors may have unintentionally performed sinful acts. In the horoscope of the next generation, these previous actions are represented as debt. The Shraadh rites are carried out to purge an individual of this dosha and its negative consequences. 
A legend about Pitru Paksha, Karna reportedly passed away on the seventeenth day of the epic Mahabharata conflict. He got to paradise, where he was fed with jewellery and decorations. He went to Lord Indra to ask why this treatment was being given because he was perplexed by it. He was told by Devraj that this was because of his lifetime of altruistic deeds. His one transgression was that he never provided his predecessor's food.
Karna immediately regretted his acts and asked for guidance on how to make them right. Karna was given fifteen days to travel to earth and make Shraad sacrifices to his forefathers. To placate his forefathers, he landed in the world of mortals and provided them with food and drink. After then, he went back to heaven, and this time was ever since devoted to the ancestors. Hindus have the belief that there is life after death.
Therefore, this time was planned to ensure that our forefathers escape the cycle of life and death and find redemption once they pass away! Get professional advice from astrologers at Poojalu.com, an online pooja booking to book a Pandit for upcoming pujas, and learn more about the Pitru dosha puja service!